---
Trebuchet Blueprints
Animated Trebuchet Drawings
<< Back
---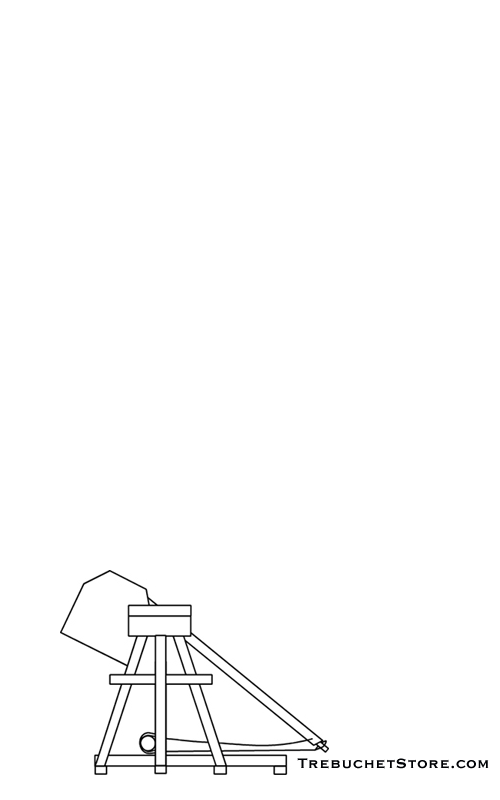 ---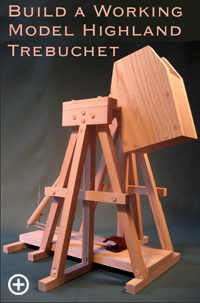 Build a classic hinged counterweight trebuchet with TrebuchetStore.com Trebuchet Plans and Instructions. Once complete, this magnificent Highland Trebuchet stands over 36 inches tall and will throw a scale projectile up to 80 feet.
Professional Design
Professionally engineered with an open counterweight cabinet, the Highland Trebuchet allows you to vary the weight for range and trajectory adjustment. Fire with an empty counterweight for indoor use, or add weight for increased power and range.
Great Project
The Highland Trebuchet is perfect for demonstrating medieval warfare and technology and the physics of leverage, ballistics and projectile motion. Trebuchets and catapults make great science and history projects.
Easy to Build
All TrebuchetStore.com plans use common, inexpensive and easy to find building materials, available at your local hardware store or home center. Basic woodworking skills and tools are required, but the straightforward design requires no complicated layout or joinery.
TrebuchetStore.com trebuchet and catapult plans come complete with:
Parts Shopping List
Measured Drawings for all parts
Assembly Drawings
Step by step Assembly Instructions
Step by step Firing and Tuning Instructions
How a Trebuchet Works
All the information you need to complete your project quickly and easily.

Want to know how to build a trebuchet ? TrebuchetStore.com Plans and Instructions take the mystery out of trebuchet design and construction.

Trebuchet Blueprints Animated Trebuchet Drawings

---
Purchase of TrebuchetStore.com Plans grants the customer a single license for personal, non-business use. TrebuchetStore.com products are protected by United States Copyright Law. You may not modify, duplicate, sell, rent, lease, loan, distribute or create derivative works based on information provided in whole or in part. Please read the complete License Agreement.