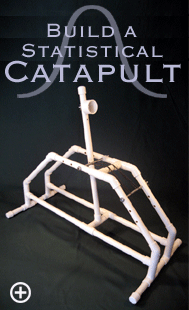 Statistical Catapult
Build a Statistical Catapult in just one night with these easy to follow plans and instructions.
Great Project
The Statistical Catapult provides a valuable, cost-effective addition to your classroom or corporate training program. It works wonderfully for math and physics class assignments, teambuilding exercises, STEM and science fair projects.
Professional Design
Professionally engineered, the Statistical Catapult allows you control of up to four independent variables for a wide range of educational and experimental applications in business, mathematics, science and engineering including:


Causal Relationships
Statistics
Parameter Control
Taguchi methods
Six Sigma
LEAN Manufacturing
Quality Control
Manufacturing Design

Process Control and Improvement
Product Design and Development
Problem Recognition and Solving
Data Collection and Graphing
System Modeling and Simulation
Ballistics and Projectile Motion
Science and Math Projects
Design of Experiments
Easy to Build
This PVC catapult uses common, inexpensive and easy to find building materials, available at your local hardware store or home center. Basic skills and tools are required, but the straightforward designs require no complicated layout or joinery.
Plans come complete with:
Parts Shopping List
Measured Drawings and Dimensions for all parts
Assembly Drawings
Step by step Assembly Instructions
Step by step Firing and Tuning Instructions
All the information you need to complete your project quickly and easily.



Buy Multiple Plans and SAVE!
| | |
| --- | --- |
| 2 Plans | $19.95 |
| | FREE Shipping |

| | |
| --- | --- |
| 3 Plans | $24.95 |
| | FREE Shipping |

| | |
| --- | --- |
| 4 Plans | $29.95 |
| | FREE Shipping |

| | |
| --- | --- |
| 6 Plans | $36.95 |
| | FREE Shipping |
Catapult and Trebuchet Plans
Statistical
Catapult
$12.95
FREE Shipping

Statistical
Catapult Plans